---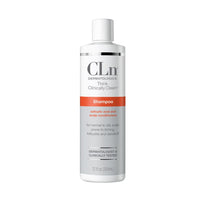 Please note: This 12 oz. size is not available anywhere online or in-store except through physician offices.
CLn Shampoo was designed by dermatologists to remove unwanted oils and dead skin cells in scalps and beards. This high-performance cleansing is effective cleansing for those prone to:
✔ Itching
✔ Folliculitis, razor bumps and burns, ingrown hair (consider the Shampoo "extra-strength" for this condition (in comparison to the CLn BodyWash); has added 1% salicylic acid for a more thorough cleanse
✔ Dandruff, including beard dandruff
✔ Seborrheic dermatitus
✔ Beard acne
✔ Oily skin and scalp
CLn Shampoo also helps treat infections, including those exposed to staph or other bacteria. It works quickly to soothe an itchy scalp while cleaning hair thoroughly.
Ideal for normal to oily hair
Fragrance-free
Paraben-free