---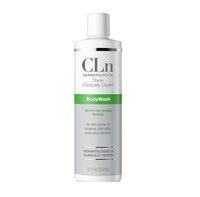 Please note: This 12 oz. size is not available anywhere online or in-store except through physician offices. 
CLn Dermatolgy BodyWash is a Physician designed gentle formula for face, hands and body prone to infection, eczema, rash, redness, irritation and folliculitis. 
CLn BodyWash is a new approach to challenging skin. CLn partnered with leading dermatologists to create an effective hypochlorite wash that is effective yet gentle to address compromised or infected skin. Its calming, non-drying formula can be used daily on problem skin without causing irritation. Though individual results will vary, many users with eczema report seeing a reduction in the appearance of skin redness, dryness and flakiness in as few as 3 uses.
With continued use, CLn leaves skin looking smooth, clear, healthy and refreshed. Treats various skin conditions:
✔ Safe for ages 6 months and older
✔ Infection
✔ 
Folliculitis, razor bumps and burns, ingrown hair
✔ Eczema
✔ Rash
✔ Redness
✔ Irritation 
Fragrance-free
Paraben-free